Trust Your Data. Make Real Time Decisions.
bipp is a modern business intelligence platform that lets you explore billions of records in real time based on trusted data models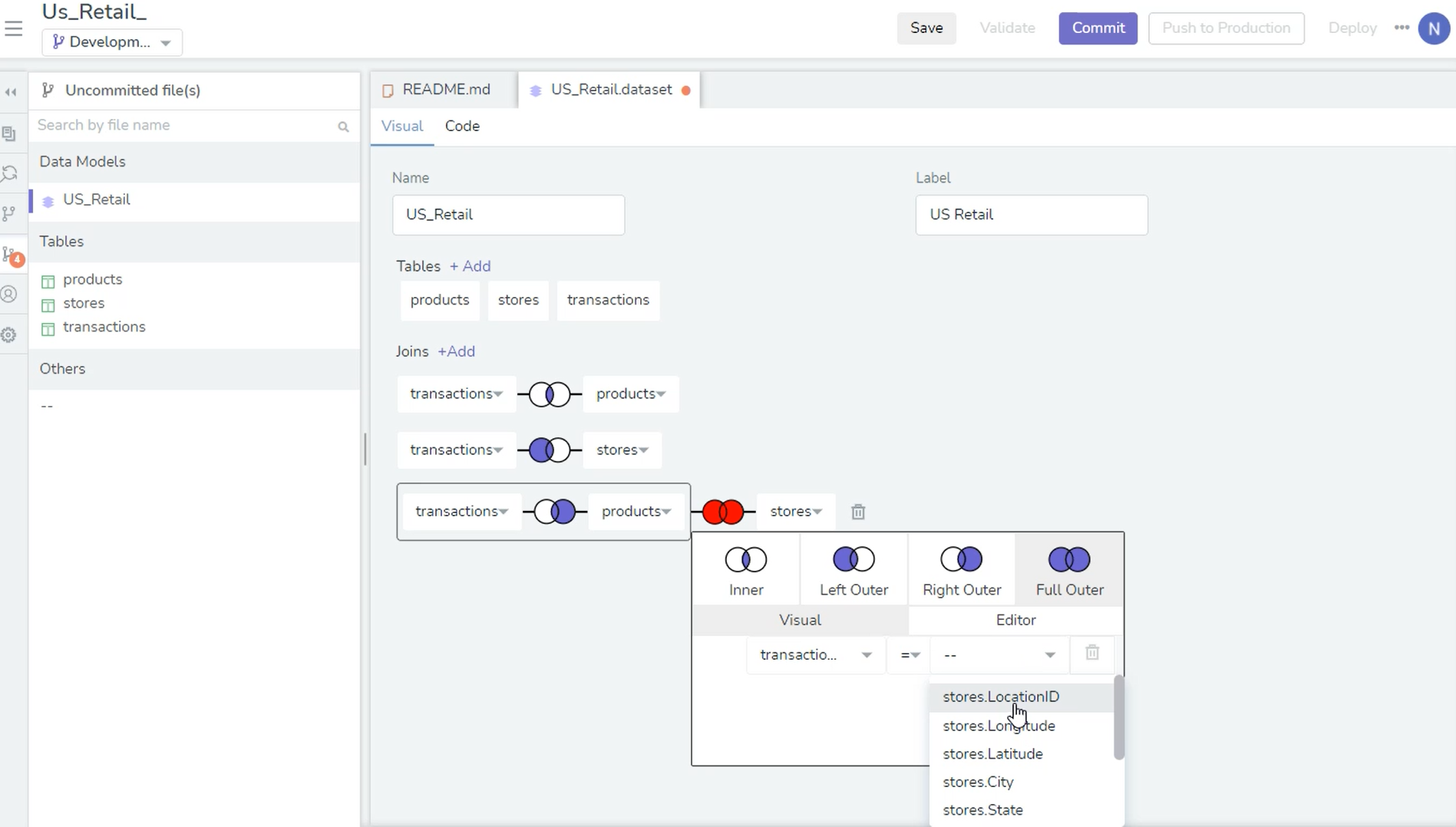 Technical teams work with their businesses to define the data that matters as a single source of truth, so everyone makes decisions based on the same information
Business users and analysts ask ad-hoc questions and explore data at a granular level, getting real time answers from billions of rows of data without technical support
Smaller technical teams use bipp's modern SQL editor to quickly and easily create SQL-based visualizations
bipp's in-database analytics means there's no slow-moving cubes or extracts, so you're making decisions based on the latest data instead of waiting days for outdated dashboards
Reusable data models save data analysts' time and help business users quickly create ad hoc reports
bippLang data modeling language helps data teams use SQL to build a data dictionary based on key dimensions and metrics, making decisions based on the same trusted business logic
Git-based version control lets the technical team collaborate and iterate on the data model definition. As the schema changes, they can manage the data model version too
Auto-SQL generator allows non-technical users to run ad hoc queries on the data model, slicing and dicing the data without writing any SQL
Businesses can't wait for slow cubes or data extracts or delays while technical teams build new dashboards. Bipp's modern BI platform helps you make decisions in real-time
in-database analytics means non-technical users can explore billions of rows of data in real-time, analyzing the latest information
Unlike legacy BI tools that move data into a BI product before you can perform operations, bipp speeds up analysis by processing inside the database
Point and click cross-filtering means users quickly gain insight by filtering every tile in a dashboard without technical support
Reusable data models save data analysts' time and help business users quickly create ad hoc reports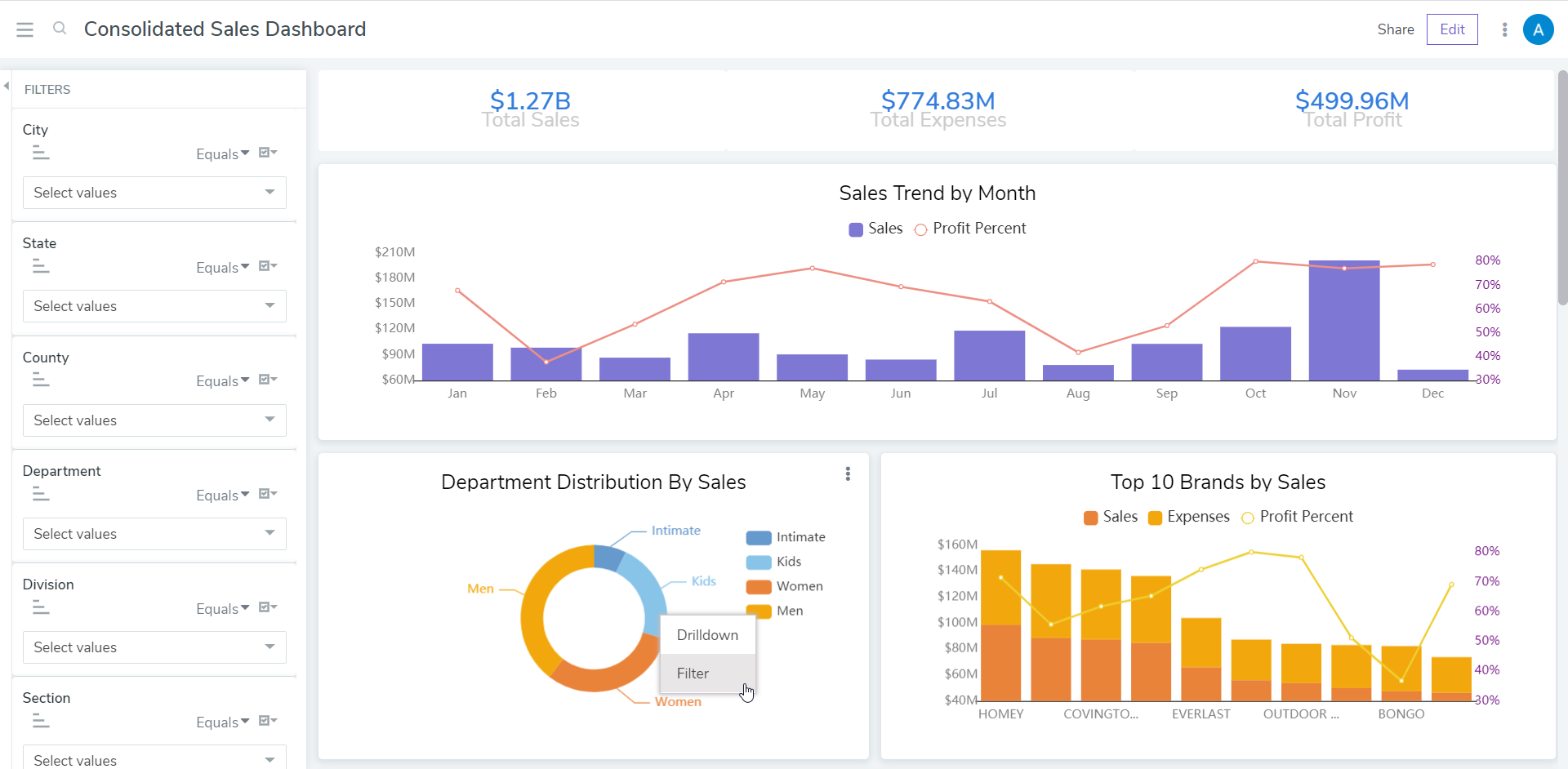 Robust dashboards and visualizations let business teams monitor and measure performance in real-time, providing a focus on organizational or team KPIs
Dashboards are interactive and can act like data applications, driving quick and accurate decisions
Visualizations reduce time to insight by allowing slicing and dicing of data with updates reflected in real-time
Grid charts display rich, multi-dimensional data, enabling comparison across variables and revealing the range of potential patterns
Scheduled reports allow business users to set up multiple personalized reports for automatic delivery directly to their inboxes as PDFs or JPG files
Data-based alerts send email notifications when thresholds are met or changes occur in sheets or dashboards, which speeds up decision-making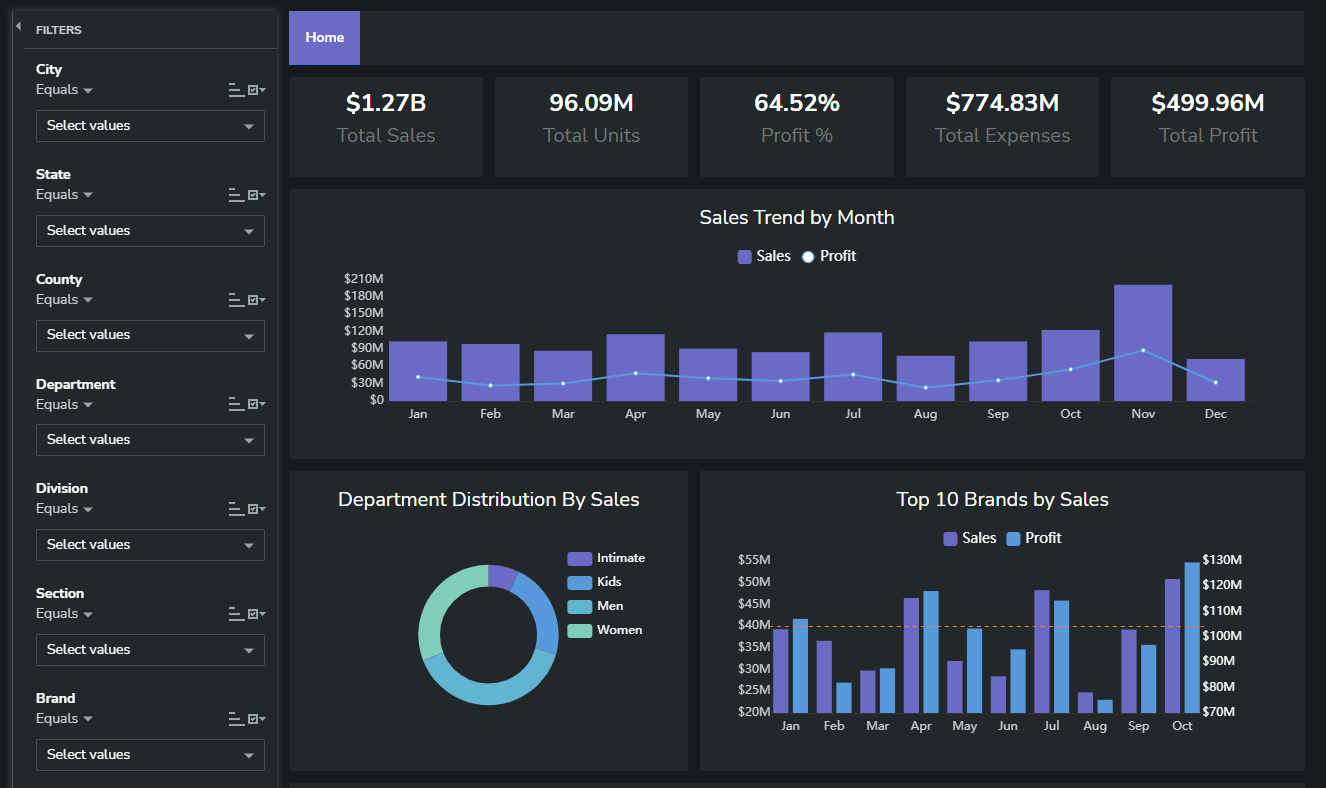 A choice of deployment options ensures companies aren't locked into a provider and don't need to move data to gain insight from it
bipp's default cloud deployment gets businesses up and running quickly, eliminates hardware-related BI costs, lets them can scale up and down, and provides access via any web browser
Cloud-agnostic modern architecture offers a dedicated on-premise deployment which means no lock-in to any cloud provider and enables greater control over data security and privacy
bipp's embedded analytics option delivers real-time reporting, interactive data visualization, and advanced analytics directly into web applications
Flexible pricing plans include free, $10/user/month, and custom options for large enterprises
Connect data sources to bipp, get analyzing in minutes
bipp connects to leading databases including Amazon Redshift, MS SQL Server, MySQL, PostgreSQL, Google BigQuery, Impala, Snowflake. More on connecting your data sources







How it works
Connect Database(s)
Build Data Model(s)
Create Report(s)
Build Dashboard(s)
Get Insight(s)
Trusted by
People are talking
bipp's team has built a great solution and services. They have been the best among all the business intelligence vendors our IT team has worked with.

We managed to replace Qlik in one of our business functions. Their data model technology helps us streamline our operations a great deal.
Director, Data Engineering and Analytics
A Fortune 50 healthcare company